Angel-Lite Maltese
To Link to Us
You may link to us by simply adding our name "Angel-Lite Maltese" to your "links" page and attaching hyperlink to:  http://www.angel-litemaltese.com
If possible, add the following description:
Striving to improve the Maltese breed and provide AKC registered Maltese puppies for pets or show from Championship bloodlines.
We'd prefer you to add our banner if possible
To do this:
STEP 1
Download our banner by pointing on the image, clicking on the right mouse button and selecting "save picture as" (Internet Explorer) or "save image as" (Netscape Navigator).
Note: You may choose whichever banner will look the best on your page.
STEP 2
Upload it to your server and place it in the same directory where your home page is located.
STEP 3
Attach the following hyperlink to banner: http://www.angel-litemaltese.com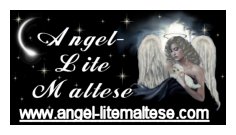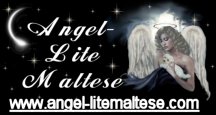 If you'd like a link back to your page – simply send an email to either Terrie Canada (owner & breeder) or to Z (webmaster). We will be happy to add links to any site that might be of interest to dog lovers -such as dog supplies, clothing for dogs, gifts for dog lovers, etc. – and related to dogs, particularly Maltese.
Be sure to include the following:
Your site's Title
A brief description – 200 characters or less
Your URL
(Optional) You may include your banner if you wish…. if possible we will include it.